Making Masa for Tamales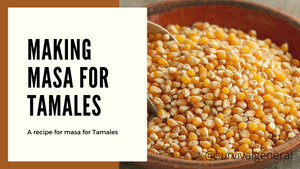 Making tamales is for people who do not have a life and that is why we only make them once a year. This is the most labor intensive hobby in the world. This makes baking bread seem like a simple project. Let's start with the simple task of finding organic dried corn. That was my first career in this undertaking. I didn't need a resume to find this job. This brings me to the midlife crisis of converting this organic whole yellow corn into masa. I now consider masa a four-letter word.
Ingredients:
1 ½ lbs. of Dried Whole Organic Yellow Corn
2 Quarts Filtered Water
1 Tbs of Pickling Lime
2-3 Tbs of Organic Chicken Broth
 For a start, place 1 1/2 pounds of dried yellow corn in a large pan and fill with 2 quarts of filtered water. Add one tablespoon of pickling lime, bring to a boil then let simmer for ten minutes.  After it cools down place in a glass bowl (not metal) cover with a cheese cloth and let it soak for one to two weeks. This is a long wait, so I suggest you find other things to do, such as changing the baby's diaper, building a house or baking bread.
Now we are ready for the exciting part, take the freshly soaked corn and rinse it thoroughly. Put this in a heavy-duty food processor one cup at a time and let run a couple of minutes (I suggest pulsing part of the time).   Also stop every minute or so and push the corn down into the blades with a spatula. The corn will be coarse and dry at this point so let the processor run for two minutes. Add broth one spoon at a time. (The last time I did these two tablespoons of broth worked perfectly.) As the processor continues to run the masa should be clinging together and start forming into a ball. This is the moment of truth, yielding a major league size glob of masa is the objective. The food processor will start bouncing from side to side as the ball forms. If not, then phone the local Mexican Market and order five pounds of masa. This is like brain surgery: if you know how to do it, it's easy.
Now we move swiftly into phase two of this project. We add the final ingredients that transforms this ball into masa. I use the Bosch mixer to blend the secret recipe of the tamale masa. 
Add the following:
1.5 lbs. processed corn (the baseball)
¾ Cup coconut oil or 6 ounces (organic preferred)
1 Teaspoon sea salt
1.5 Teaspoons Baking Powder
You will also need about one pack of husks. Please don't put these in the mixer, trust me it makes a big mess. You will need something to fill the tamale with. The technical Mexican term for this is called Spreading the Masa, then place the filler of your choice on top of the spread and close the tamale. This makes a great healthy tamale. Now the cloud of gloom lifts; it is almost time to eat the tamales. All the hard work pays off... the greatest, healthiest tamales this side of Heaven. With this corn Masa you can make masa for tamales and corn tortillas (we will show you how to make corn tortillas in a future blog post). 
My mother in law Mercy Montes, my favorite mother-in-law of all times, started this tamale tradition. I miss her dearly. She always prayed for me, spent time with me and defended me even when I was wrong. She brought this wonderful tradition and recipe from Mexico many years ago. The Christmas and tamale season are always sprinkled with a bit of sadness without her. She will never be forgotten.
If you have any problems with this recipe or questions, please email my wife at info@survivalgeneral.com. You can purchase your organic yellow whole corn here. Survival hand grinders coming soon!
Happiest of Holidays!
-Jerry, from Survival General