Top 5 Groomsmen Gift Ideas | Under $30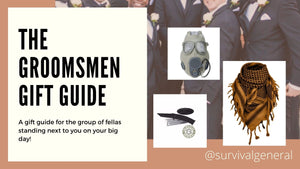 Available in OD green or black. Great as a smaller tool bag or a travel dop kit bag. Either way, your groomsmen are bound to appreciate this gift. Priced at $19.99 you could even have the bag custom embroidered for each of your guys. 
2. Spring assisted pocket knife 
This little guys is a great gift because it's a must-have for your EDC (every day carry) Available in a classic black color, this pocket knife is a great gift for your buddies. At $9.99 this little gift will go a long way. 
3. 8 oz. Stainless Steel Flask
This is a no-brainer, especially for the actual wedding day! As the groom you'll appreciate that you got your buddies a flask filled with their favorite liquor, because chances are, you won't have yours on you on the day of, but if your groomsmen are equipped with these guys, you'll be set with a drink at any time during the day. It's a win-win. 
4. Gas mask 
This gift is great if you've got a fun group of fellas. This gas mask is under $30 and is sure to win you the best groom ever. This is a authentic Czech gas mask with the hydration straw. 
These Shemaghs are not only really cool looking, but also very functional. Available in 3 colors: OD Green, Coyote Brown, and Tan. You're bound to make your groomsmen grateful for this fun, and functional item.