Christmas Gift Guide Under $40 | Survivalist Edition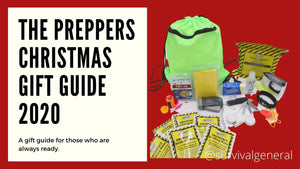 Here is a quick guide to some Christmas gifts that are under $40 and for those of all prepper levels in your life. 
For the non-prepper:
So these are the ones in your life that you love dearly, but if poo hit the fan they would have no plan... unfortunately this represents a majority of the American people as the Covid pandemic showed us (https://apnews.com/press-release/pr-newswire/5df8234546a821090026efd674748fb1) 
This kit is a basic food + water bag with a 3 day supply. Of course, in a real crisis this wouldn't cut it, but it's a great start for those who have no idea where to begin and who knows, maybe this could inspire them to research and build an even better kit! 
Priced at only $24.99 this kit is a great starting place for some emergency preparedness. 
https://www.survivalgeneral.com/products/3-day-emergency-survival-kit-food-water-gym-sack-bag-earthquake-hurricane-fire
This 3 day survival kit has a little more than just food and water, it's a great step up from the basic kit. 
https://www.survivalgeneral.com/collections/survival-kits/products/3-day-emergency-zombie-survival-kit-food-water-gear-bag-go-sack-prepper-72-hour
For the ones who already have a kit:
These items are affordable and great additions to any kit, or just fun items to have! Especially for that prepper friend of yours. 
Stainless Steel Carabiner Mug:
For the expert Prepper in your life: 
Here are some novelty items that your prepper friend may love! Like this Authentic Finnish Gas Mask w/Filter and water resistant bag:
https://www.survivalgeneral.com/products/used-finnish-military-m61-gas-mask-full-face-adult-w-60mm-filter-poncho-bag?_pos=1&_sid=bd15cb693&_ss=r
Also, the Czech 
https://www.survivalgeneral.com/products/czech-gas-mask-m10m-w-hydration-port-and-straw-w-bag-and-filters
And last but not least, the ULTIMATE kit for all the prepping!
https://www.survivalgeneral.com/products/czech-gas-mask-m10m-w-hydration-port-and-straw-w-bag-and-filters